Barbara Stanny
Secrets of Six Figure Women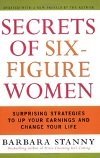 Pro: The Secrets of Six Figure Women by Barbara Stanny is fabulous in that it is based on real life struggles and triumphs of women as they rose into the six figure category.
Con: Though the book gives the mindset that these women hold and the strategies they used to arrive at six figures; however, there is little theory as to why these strategies work. The book could include more personal development exercises.
Review:
I view Barbara Stanny's The Secrets of Six Figure Women as the personal stories companion to "Think and Grow Rich" or "The Science of Getting Rich." It is rich with interviews, personal perspectives and beginning-to-end journeys of what it took to make it to six figures. The most poignant point the book made in my opinion is that it takes guts to get to six figures. You have to do things that push on your fear button. Things that make you want to turn the other way, go under the covers and not come out for six months. That may be asking for a raise or a promotion, leaving your steady job to start your own business, networking with strangers, etc… Six figure women have trust. Trust that the Universe has their back, trust that their intention has been heard. They are willing to put themselves out there to reap the rewards. They also state that the fear never really goes away; you just learn to push past it, and keep pushing past it.
The book also stresses the importance of intention. I have experienced this in my life as well regarding finances. It is vital to know why you want more money. Not just that it would be nice, but what will more money give you? What would the decreased stress of abundance do for you? For me it is always love…you can read about my journey to prosperity here.


If you like personal stories as a means to motivation and getting into action, I highly recommend the
Secrets of Six Figure Women
by Barbara Stanny. By working through the book, you will learn: the nine traits of underearners, the seven traits of high earners and the six figure strategies. I can attest that these are right on.
Return from The Secrets of Six Figure Women by Barbara Stanny to Inspirational Books.