Dealing with Pain
Dealing with pain is, well, a pain. It is also an opportunity.
I've recently been working with the concepts in Michael Singer's book The Untethered Soul. You can read the book review here. He encourages his readers to "lean back" away from the noisy mind that incessantly talks all day long. For the last few days, my mind was mostly talking about pain.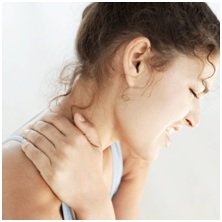 What started as soreness on the right side of my neck ended up as a pinched nerve which shot pain down my right arm, across my upper back and up into the base of my skull. Each potential move I made came with the thought, "I bet this is going to hurt." And, sure enough, it would.
My husband, Phillip, and I were away for the weekend during all of this. Due to the issues with my kidney, pain killers, weren't an option, so I decided to work with the pain, to "lean back" away from the ruckus my mind was making about being in pain. It was fascinating to watch.
My mind became obsessed with dealing with pain. Trying to figure out what was going to hurt, how the hurt felt and how I could stop my neck from hurting. The whirlwind of my thoughts was almost worst than the zing from the pinched nerve. Each thought had me rolling my neck around, sitting up, lying down, trying heat, taking showers, etc… All the while I watched. I saw that my thoughts were rarely in the moment. Mostly they were trying to control how much pain I was going to feel in the future. I also saw that the more I thought about the pain, the worse it got. Putting so much attention on it magnified it.
Over and over again, I bounced between being a "witness," as Singer puts it, to my thoughts and being completely overtaken by them.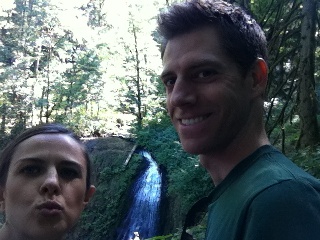 Finally on Sunday, I realized something. Phillip and I were hiking, and I was still feeling the pain. Still trying with every ounce of willpower I had to be present with how it felt when I realized a huge issue with pain. Huge! We label pain as "bad," and because we do this, we resist it with everything we've got. We put pressure with our thoughts, and our actions, toward controlling how much pain we feel. While we try to convince ourselves that this is helping, more often than not, it is just causing frantic stress which makes the pain worse.
What if "pain" was just "a sensation?" Not good. Not bad. Just a sensation, something we are feeling. Doing this made it way easier to stay present with the pain I was feeling. It was just a sensation. Something that comes and goes. Not something I'm burdened by or doomed to live with forever. Just a feeling passing through my awareness.
Wow, did that help. The sensations I was having from the pinched nerve took another two days to finally dissipate; however, my nerves were much more tolerable when I saw pain for what it was. When I gave up trying to control the pain, it finally eased up.
I'm not saying this is easy. Dealing with pain does take effort. It takes effort to stay present. It takes effort to not get pulled into the pain. It takes willpower to "lean back" away from the urges to frantically think about how to make things better. However, if you can experience pain for what it is, you may find that it too is just a sensation.


Return from Dealing with Pain to Holistic Healing