Fear of Public Speaking


Affirmations for Fear of Public Speaking: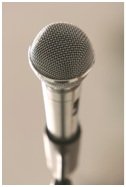 I am a brilliant public speaker.



I hear a roar of applause as I stand proud and confident in front of my audience.



My message is clear and well received.



I am embraced by my audience.



I easily connect with the audience.



I choose to be courageous and speak in public.



I speak with clarity and power.



My memory is sharp at recalling the key points of my speech.



I am a person just talking to other people…no big deal.



My body moves naturally during my speech to enhance my message.



I choose to be calm and relaxed in front of my audience.


About Affirmations:
The key when saying, and/or reading, affirmations is to feel the feelings they portray. It can help to fully relax and know that at the core of your being, these statements are true. If they feel out of reach or you are having a hard time convincing yourself of their truth, adjust the affirmation to include the words choose, potential, or willing to make them true for you at this moment.
Also, affirmations gain their power from repetition. The more often you say them, the more they will impact your reality. Affirmations are
not
a one-time-event…say them once and life is perfect. Affirmations are an everyday choice, a choice we make with our thoughts and feelings. The more often you use them, the quicker you will begin to see new opportunities, engage in new healthy behaviors, and feel energized by the direction your life will be taking.
To learn more about making affirmations part of your daily routine, visit
All About Affirmations.
To start writing your own powerful, effective affirmations, visit
Writing Affirmations.
Return from Fear of Public Speaking to List of Affirmations.