New Year's Resoltuion Affirmations


Below, are the most popular New Year's resolutions according to www.usa.gov and next to each you will find an affirmation targeted toward keeping that goal. Happy New Year!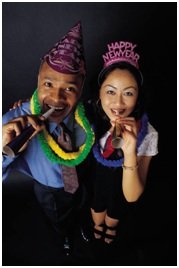 Affirmations for New Year's Resolutions:

Lose Weight – I am at a healthy weight for my body. I am vibrant with energy and bursting with life in my new body. My confidence and radiant joy expands to everyone around me.



Manage Debt – I am in control of my finances. Relief is flooding my mind as I know that abundance is manifest within me.



Save Money – I recognize the abundance in my life and effortlessly save $XXX per month.



Get a Better Job – I release my need for my current job and allow a more engaging and exciting position to enter my life.



Get Fit – I am proud of myself and my physical fitness accomplishments. The energy and vitality of life is alive in each cell of my body.



Get a Better Education – I embrace the wisdom that makes up who I am. I allow it to develop and express through me.



Drink Less Alcohol – I choose to love myself and be at peace with my life. I release all my destructive habits and hold close my spirit.



Quit Smoking Now – I breathe easily and know that I can handle whatever comes into my life.



Reduce Stress – As I breathe in and out, I know that the undercurrent of life is calm. I can express peace and harmony at any time I choose.



Take a Trip – I enjoy the freedom and adventure of travel. My horizons are broadened and my experiences are enriched by visiting some place new.



Volunteer to Help Others – I freely give my love and support to others. I am grateful for what I have and I share.


About Affirmations:
The key when saying, and/or reading, affirmations is to feel the feelings they portray. It can help to fully relax and know that at the core of your being, these statements are true. If they feel out of reach or you are having a hard time convincing yourself of their truth, adjust the affirmation to include the words choose, potential, or willing to make them true for you at this moment.
Also, affirmations gain their power from repetition. The more often you say them, the more they will impact your reality. Affirmations are
not
a one-time-event…say them once and life is perfect. Affirmations are an everyday choice, a choice we make with our thoughts and feelings. The more often you use them, the quicker you will begin to see new opportunities, engage in new healthy behaviors, and feel energized by the direction your life will be taking.
To learn more about making affirmations part of your daily routine, visit
All About Affirmations.
To start writing your own powerful, effective affirmations, visit
Writing Affirmations.
Return from New Year's Resoltuion Affirmations to the List of Affirmations