Norman Vincent Peale
The Power of Positive Thinking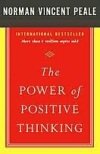 Pro: The Power of Positive Thinking by Norman Vincent Peale is packed with stories, examples and specific techniques to incorporate positive thinking into your life.
Con: The book was written in 1952; hence, sometimes the language is hard to follow and relate to.
Review:

For readers who identify with the Christian faith, The Power of Positive Thinking by Norman Vincent Peale will be particularly appealing. The philosophical and spiritual exploration of positive thinking gained popularity as the "New Thought Movement" of which Norman Vincent Peal was a pioneer in. It grew out of Christianity and biblical teachings of how to use faith and thought to become a co-creator of life experience. Hence, the book has a strong biblical foundation. It uses stories and quotes from the bible to support and teach positive thinking.
The book utilizes numerous stories and examples to teach the basic principles and techniques of positive thinking. My favorite is a story toward the beginning about believing in one's self. A business man was having a hard time with self confidence and was facing trying to close a big deal. Peale suggested the man repeat: "I can do all things through Christ which strengthen me." The results were that repeating the affirmation did wonders for his self confidence and subsequently his success.
I think fondly of this book almost as a textbook for positive thinking. It covers a variety of topics including: reducing worry, healing, increased energy, success, prosperity, etc… The version I have includes a bonus 270 pages called The Amazing Results of Positive Thinking with stores of positive thinking in action.
Reading others people's success stories with positive thinking is a fabulous way to build faith and thus results.
Due to the length of the two volumes combined, 500 pages, it is a book that you may want to read through once and then go back to as a refresher now and again.
Return from The Power of Positive Thinking by Norman Vincent Peale to Inspriational Books