Positive Thinking in a Bottle
There is a great visual analogy for how positive thinking works. I believe this comes from
Norman Vincent Peale.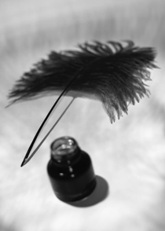 Picture an ink bottle filled with black ink. Assume this is your negative thoughts. The easiest way to empty the ink bottle, the negative thoughts would be to tip it over. However, the bottle is glued to the table it is sitting on and it cannot be dumped out. How do you get the ink out now? The easiest way to empty the bottle of the dark ink is to pour in fresh clean water.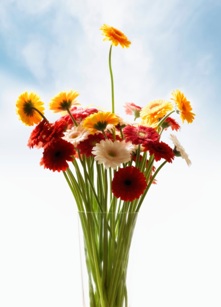 As the water pours in and begins to overflow, the ink will spill over the sides of the bottle. Pour in enough clean water & eventually all of the ink will be gone and you can adorn your bottle of clean water with a bouquet of flowers.
Positive thinking is like pouring clean water over any dark thoughts. Repetition is so vital with affirmations because if you were to only add one drop of clean water to an ink bottle, it would become lost in the darkness. Similarly, saying a beautiful affirmation once will do little to change anything. Affirmations must be repeated again and again so that our stubborn ink-bottle minds finally get the new message. After using affirmations for a while you will begin to notice your reactions changing. Instead of becoming worried or stressed you will find yourself repeating your positive thoughts on autopilot to respond to whatever situation you are facing. It is then that you know your ink bottle is becoming clearer.
Through the clean water you are better able to see opportunities, love, and the blessings that already surround you. Repeat, repeat, and then repeat some more…
To learn more about affirmations, visit: All About Affirmations.




Return from Positive Thinking in a Bottle to the Affirmation Blog