Relationship Advice: Reflecting on Ten Years
On Friday I will be celebrating my ten year wedding anniversary, and I have one piece of relationship advice in honor of the occasion. My husband, Phillip, and I have learned a lot about each other and ourselves over the course of our marriage. We have had financial stress, illness, the better and challenging of the vows we took. The one thing that I think was the hardest to learn, and the key to our ongoing success, has to do with goals, and more specifically how we allow each other to approach them. This is what my relationship advice centers on.
One of the most important conversations you can have in your relationship is about what your goals as a couple are. This is an ongoing conversation. Life changes and goals follow suit. Do you want to own a home? Have children? Travel? Retire young? Find careers your passionate about? Start a business together? Renovate a home or build a home? Save money? Invest? Adopt a healthy lifestyle? Get out of debt? Talking about these things is essential to know what direction you are both pushing toward in your relationship. If you are pushing in opposite directions, conflict will be inevitable.
Getting on the same page takes compromise, but it will bring you closer. That being said, knowing what your shared goals are is only part of it.
You and your partner are two separate people with two separate backgrounds and two separate personalities. This leads to different spending habits, time management practices, diets, exercise patterns, preferences in entertainment, etc… You may have the same goals, but most likely you approach them differently. Here is my advice: if they are trust worthy, trust your partner. Trust that they are on your team and are headed toward the same goals you are even if they go about it in a way that is out of your comfort zone.
For example, seeing your partner spend when you think they should save can be very uncomfortable, but if you are in agreement about getting out of debt or buying a house or investing and the amount they spent is not directly infringing on that goal, trust that even though they spent money they still have your collective goal in mind. Of course this is all within reason.
The point is to honor the person that you are with. This requires letting the part of your ego go that wants to control how your partner behaves. When you do, you will begin to appreciate your significant other's uniqueness and see how their differences compliment you.
In a nutshell, my relationship advice is this:
Get on the same page about what your goals as a couple are.
Honor the unique way your partner may approach those goals.
It will take a lot of communication to build this extraordinary level of trust with your partner. The ironic thing is that replacing your need for control with trust results in the security, always knowing that someone has got your back. A true partnership.
And here we are, ten years later, celebrating in Norway!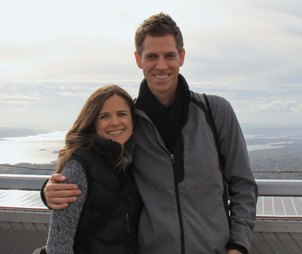 Return from Relationship Advice: Reflecting on Ten Years
to Self Help Articles