Overcome Relationship Problems
by Bending to Love
Relationship problems are simple. They boil down to love, wanting to be loved. However, they feel infinitely complex, because, more often than not, partners in a relationship express their love differently.
When we expect our partner to express love in the way we express our love for them, we set ourselves up for disappointment. We then withhold our own love until they respond the way we want them to. This strategy is doomed to fail as we know from the
law of attraction.
If we put out cold frustration, we are unlikely to attract back the warmth of love we seek. Instead we get a chilly reception which further ingrains our resolve to withhold love. And so the pattern goes.
It can be hard to admit that we have landed ourselves in this type of cycle; however, this is where the power lies. If we can recognize how we participate in relationship problems, we can take action to resolve them. If the goal is love, than we must affirm love. The most effective way I know to do this is to recognize all the ways your partner expresses love for you, keeping in mind that this is probably different from how you would prefer or express your love for them.
For instance, my husband, Phillip, goes through periods where he works long hours at his job. This has the potential to create relationship problems because I would prefer he love me by being at home for dinner. The more I can shift my focus to recognize that by working long hours he is providing for our comfort and security, the more love I feel from him.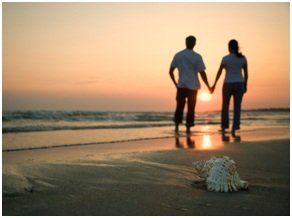 When I appreciate the work he puts in and the style in which he cares for me, I feel more affectionate toward him and, in turn, him toward me. I know that he would prefer to be at home for dinner, but he works hard because he loves me.
So often, men and women express love differently. Love does not have to be all about candles, flowers, and sweet nothings, love can be expressed as taking out the garbage, repairing the car, washing the sheets, and making dinner. When you can bend your definition of love to everyday tasks, relationships transform.
I challenge you to take one week and make a list of all the ways your partner loves you, big and small.
Make sure you write them down. As you look over your list, express your appreciation for the little things that make life sweeter. Be the first one to bend to love, express love, and in return, you will feel loved.
Return from Overcome Relationship Problems by Bending to Love
to Self Improvement Articles