Visualization Exercises
These visualization exercises are fun ways to demonstrate the power of your thoughts. They can be used as reminders that your intentions are on their way or to show friends the power of positive thinking.
Exercise #1:
I learned this technique while watching a workout video. Stand or sit up tall, raise your right arm and then lower it. Now perform the same movement again, but this time, pretend that you are lifting your arm through peanut butter. Much harder, right? That is your mind physically making your muscles work harder based on an image you have pictured.
Exercise #2:
Stand up tall and bend forward to touch your toes. Note how far you are able to bend. Stand up tall again. Close your eyes and picture, in your mind's eye, bending forward much farther than you did the first time. Open your eyes and bend forward. Note that you were able to get closer to your toes. Again, that is your mind altering your physical reality to match an image planted in your imagination.
These next three visualization exercises are designed to help you practice sharpening your visualization skills. Sit comfortably or lie down and close your eyes. Take a deep breath in and hold it for a count of 3 then exhale slowly. Repeat 2 more times. Perform one of the exercises below:
Exercise #3:
Try your best to clear your thoughts and then focus on trying to smell, yes smell, a strawberry. You can picture the strawberry or picture yourself in a field of strawberries or picture yourself about to eat strawberry shortcake. Can you smell the sweetness?
Exercise #4:
Clear your thoughts and picture yourself standing in the rain. It is coming down all around you. You are getting soaked. Can you feel the water dripping down your arms and face? Can you feel your clothes become wet and clingy?
Exercise #5: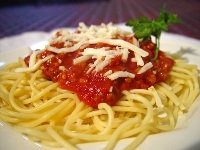 Again clear your thoughts and picture yourself sitting down at a dinner table. In front of you is a big plate of spaghetti. It is a huge mound covered with marinara sauce and parmesan cheese. You take a fork and wind a huge scoop of spaghetti. As you put it into your mouth, can you feel the slurp of the last noodle on your lips? Can you taste it, all the gooey sauce and sharp parmesan cheese?
The more you practice visualization the more you will be able to really get into the scene you are painting in your mind. You will be able to use all of your senses, and most importantly, that will lead you to feel the scene as if it were a reality right now.
Return from Visualization Exercises to Affirmation Techniques